Caroline Nordstrand · 21/10/2014 · Science and Cocktails Lucid Dreaming Ursula Voss
This has to be one of the most interesting events I have heard of in a long time. A combined cocktail event and science talk about lucid dreaming by Ursula Voss.  
Here is an extract from Science and Cocktails about tonight's event. Read it in full here.
Can you become aware during your dreams and change them? How do clocks work in the dream world? Can you use lucid dreaming to your advantage? Is lucid dreaming a natural phenomenon? What is the brain base for lucid dreaming?
A lucid dream is a dream in which a person becomes aware that he/she is dreaming. One of the first recorded references to lucid dreaming was by Marie-Jean-Léon, Marquis d'Hervey de Saint Denys. Since then, several scientists and philosophers have been intrigued by the different possible mechanisms that are set to motion in the brain during a lucid dream as well as what kind of states of awareness can the human brain produce. 
In lucid dreams, the sleeper is consciously aware that the ongoing dream is not real. Sometimes but not always, the dreamer is able to change the dream plot and, for example, put a dream aggressor to flight.
Does lucid dreaming provide us with control over the supposedly uncontrollable unconscious mind?
Ursula Voss, for the first time in Denmark, will review the evidence that lucid dreaming is a real phenomenon, rare and evanescent but of significant scientific value which is only now beginning to get the recognition it deserves. Based on admittedly still limited but fast growing empirical evidence, she will give an overview over the recent scientific work and sketch a model of consciousness that replaces the outdated and merely qualitative model of the unconscious mind with a quantitative and qualitative definition of consciousness. She will also report on the first attempts to apply the insights derived from lucid dreaming research to the treatment of psychiatric illness like obsessive compulsive disorder, depression and trauma.
Later on, Feast of the Bean King, a dirty, groovy swing jazz trio with a twist of muddy blues and psychedelic rock will take the stage while chilled dreamy cocktails are being served.
About Science and Cocktails (read more here): 
Science & Cocktails (est. 2010) is a non-profit organisation dedicated to improving the communication of scientific research to the general public. The idea is to bring science and entertainment closer together by creating a series of public lectures intertwined with music/art performances and smoky dry-ice chilled cocktails in your hand. 
About Ursula Voss (visit her homepage here): 
Ursula Voss is lecturer and professor at J.W. Goethe-University Frankfurt, Northern Institute of Technology/Technical University Hamburg Harburg, Erfurt University, and Friedrich-Wilhelms-University Bonn. Her research focuses on attention, states of consciousness, information processing and vigilance as well as psychological sleep research.
Where: Byens Lys, Christiania's cinema
When: Doors open at 19:00. Entrance to the event is free. No registration is necessary.
Caroline Nordstrand · 14/10/2014 · Live Session with Lydmor
Last Thursday Danish singer/musician Lydmor gave a Vice x WiMP Live Session at Dome of Visions. Before and during the session, Lydmor, also known as Jenny Rossander, was kept company by a camera team documenting the run up to he concert from the first take to her performance in the dome. In between she did a small interview in her private apartment.
I interviewed her last year. She is dedicated. That alone owns her my blessing. She has a great voice. She is a confident performer. Check her out.
Here is what it looked like the hours before the night concert at Dome of Visions.
Jenny has collaborated with Danish producer Bon Homme, together they performed their track Daybreaker.
And finally Lydmor solo performing her track New Cars and Babies.
Caroline Nordstrand · 12/10/2014 · Vele di Scampia Napoli
Via Failed Architecture: 
The Vele di Scampia (English: Sails of Scampia) is a large urban housing project built between 1962 and 1975 in the Scampia neighbourhood of Naples, Italy, designed by the Italian architect Franz di Salvo and inspired by Le Corbusier and Kenzo Tange.
The plans also provided for the creation of meeting-places, playing fields and other facilities, and of fast-flowing roads. Shortly after its completion, however, living conditions in the area began to decay. Many flats were illegally occupied by people made homeless by the earthquake in 1980. 
Today the Vele are a major centre for drug trafficking and illegality in general. Street racing and the handling of stolen goods flourish. The film Gomorrah of Matteo Garrone was partly filmed at the sails, showing both the exterior and the interior of houses and corridors between landings.
Caroline Nordstrand · 12/10/2014 · The Daily Show Jon Stewart
Oh no he didn't, oh yes he did!
I only just discovered Jon Stewart but what a great discovery. A former comedian (add to that writer, producer, director) Stewart runs the satirical news programme The Daily Show on US tv channel Comedy Central where he delivers satiric criticism of powerful media such as CNN and Fox News. (As he has been since 1999… I must have been either blind folded or an extremely disinterested teenager). 
Anyway, his points might be a bit over the top here and there. And, sure, one shouldn't rely exclusively on The Daily Show as a news source, as one never should with any given media (this is probably Stewart's entire point), still it presents itself as a hilariously refreshing and entertaining third eye on international (U.S) politics as it is mediated by some of the world's most "influential" media. And it's fast pace. Check out this clip for instance, where Stewart zooms in on Fox News coverage of the Ferguson case. (Seriously, what did this guy eat/drink/inhale before 'action'?) 
Caroline Nordstrand · 10/10/2014 ·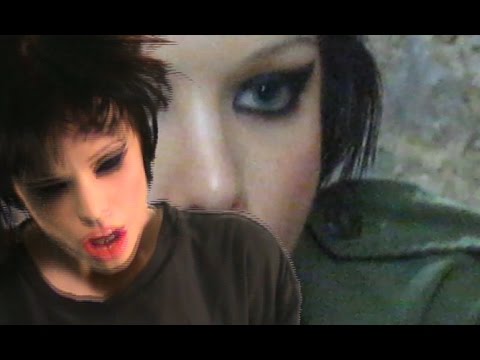 I am gonna miss this duo. Happy that I got to see them at Roskilde last year.
Crystal Castles - Alice Glass & Ethan Kath – 2003-2014.